Hi Everyone,
The long awaited entry is here!
The national dog walk is held last sunday at west coast dog run.
I had a great time hanging out with Snowy, Angel and Paw. Jojo and YY are not there as their mummy rent a stall there to sell human food like steam corn and fishballs. As JJ and paw mummy are helping out too, we reach the dog run at around 2pm.
Snowy, Paw and me had the priviledge to run around the dog run before the crowds get here.
JJ as usual, din have the time to take picture of us exploring the place, as half the time she spent was screaming at me for rolling in the mud. I love MUD!
Come let me introduce Snowy, this pretty maltese and me look alike. Hehe when we are sitting next to each other, we look like the same breed except different colours.
Once again, i am wondering if i am a maltese poodle mix.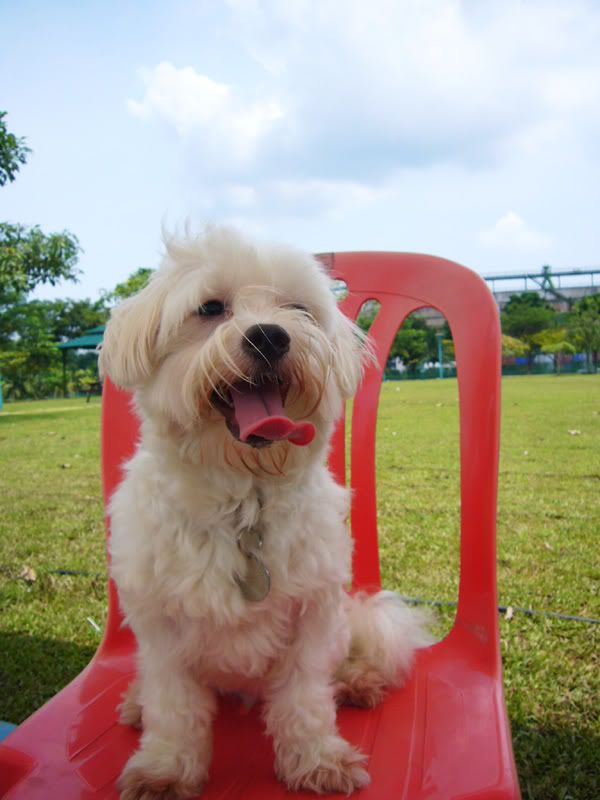 JJ told paw mummy abt my theory and she told JJ to dream abt it. *sulk*
Finally, the stall has been set up and we are ready to go for the dog walk.
Paw, Angel and me set off to the starting point.
Upon reaching the starting point, Angel and her mummy decided to go find other friends.
So the rest of us decided to continue and go to Mac to buy ICECREAM!
Me and Paw power walking.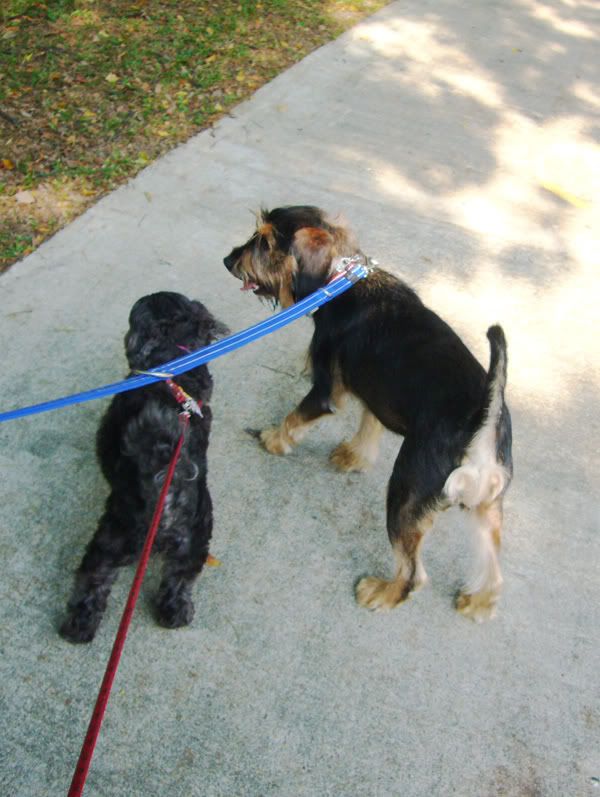 Something caught our attention.
We had a short break when we reach MAC, we even have icecream. No pictures again *cry* JJ hands are dirty from feeding me icecream.
While walking back, we spotted a friend. He is Paddy.
He is a very loveable boy and HE is up for adoption! His fosterer took him to this dog walk to see if there is any chance of meeting potential owners!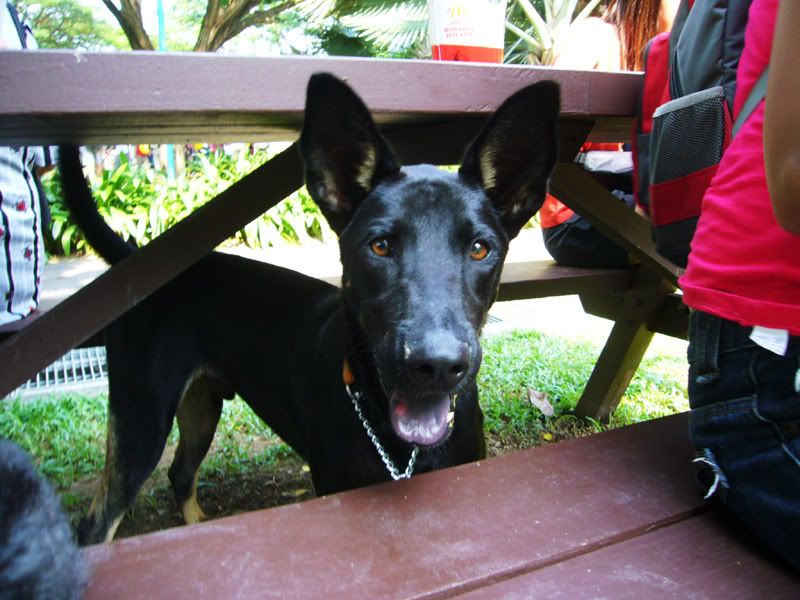 Isn't he handsome. If anybody is interested. Do leave me a note, i can help you to contact the fosterer.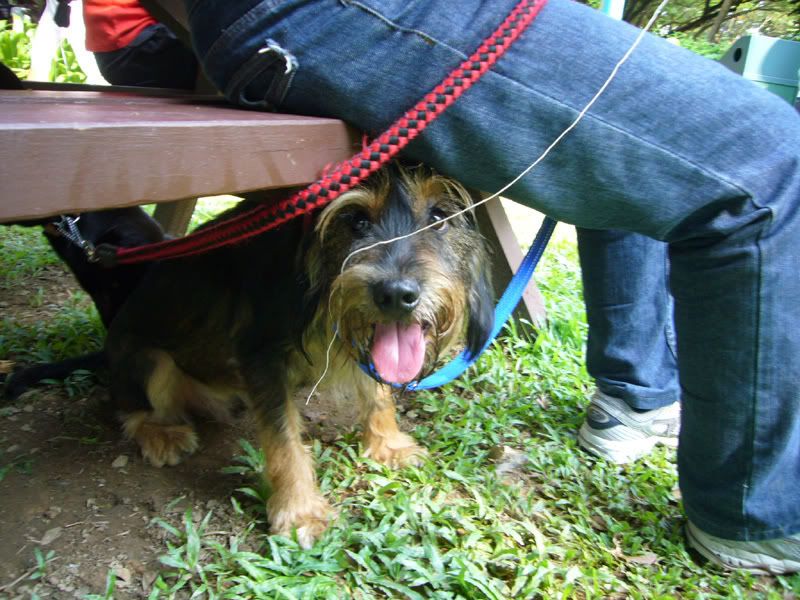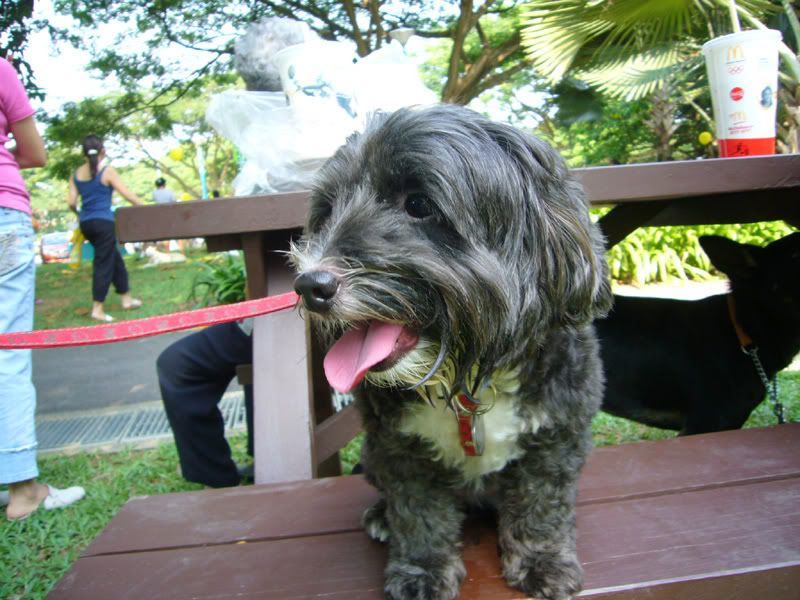 Thats us chilling out with Paddy
When we finally reach the dog run again. We were overwhelm with the populations.
There are so many people and dogs.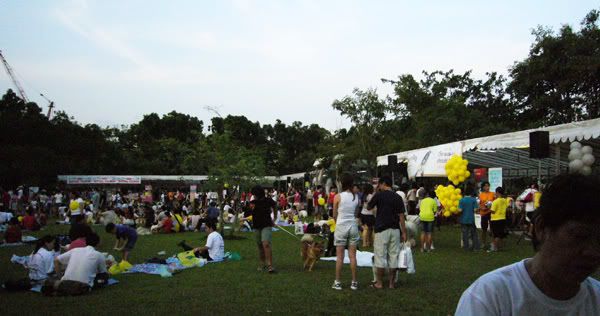 Then.. the rest is history, as JJ was busy helping out with the stall.
But i am glad she still remembers to go shopping for my stuff.
She got a hair dryer stand, a bone soft toy and a I LOVE SINGAPORE bandana.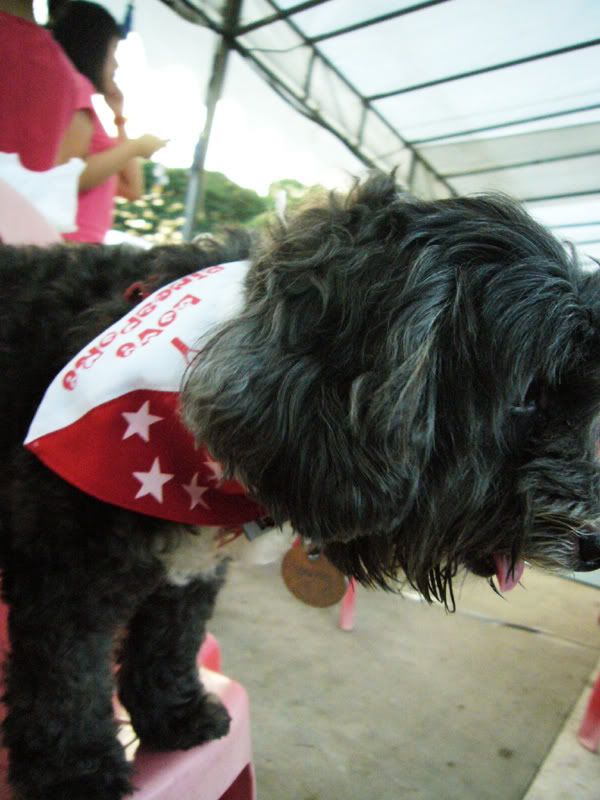 Anyway Happy Belated Birthday Singapore!
We Love you.
Lots of Love,
Sweety
PS: Ume we din manage to spot u on the dog run, there is just too many umes look alike. JJ wanted to be silly and call every silky UME to see if it responds.