Hi Doggies and Girl Girl,

Thanks for everybody concern abt the tremors we felt. Actually i think we make a mistake over in our previous post. Singapore did not have direct impact of the earthquake. The earth quakes are all in indonesia, the epicenters are mostly in the sea. Singapore is a well sheltered country and what we felt are after shocks or slight tremors of the earthquakes. So most of us experience building shaking in Singapore. No major accident happen due to the earthquakes.

Why we are so scared of it.. Its because, we seems to be able to feel the tremors alot more than last time. Last time, when there is earth quakes in Indonesia, most of the time we are unable to felt anything. But these few years, it seems to be bigger and closer. *shiver*

Sorry for the misleading info that i did the previous time, thanks to all tt drop by. Singapore is still quite safe. Lets hope it keeps this way.

Ok... enough abt the quakes.

JJ brought her D40 out this wkend and this time she brought me along.
Guess what! She is going to have alot of models to shoot and we doggies are doing a major amateur grooming class..... This sounds so scary....

Alright, its gonna be a super lengthy post along with a LOT of Peektures!


Hehe, i am the least taken model of the day. I am sick of being in the "lime light"

Model of the Day: Paw Paw
I hope some of you remember him. JJ is taking tons of peektures of him as he is a easy target. If he stays still! haha


Love this! He looks so so happy



He look so cute in this foto



Introducing his biological sibling, Zen Zen. She has a blog too!
Her mummy is out of town so Paw mummy is dog sitting her.
This is the only clearer pic that we can get.

Zen is super super active and she is clever. She knows how to hide from the camera.
These 2 are the only shots we are able to take. Zen mummy: Next time meet up again, we will take more pic of Zen.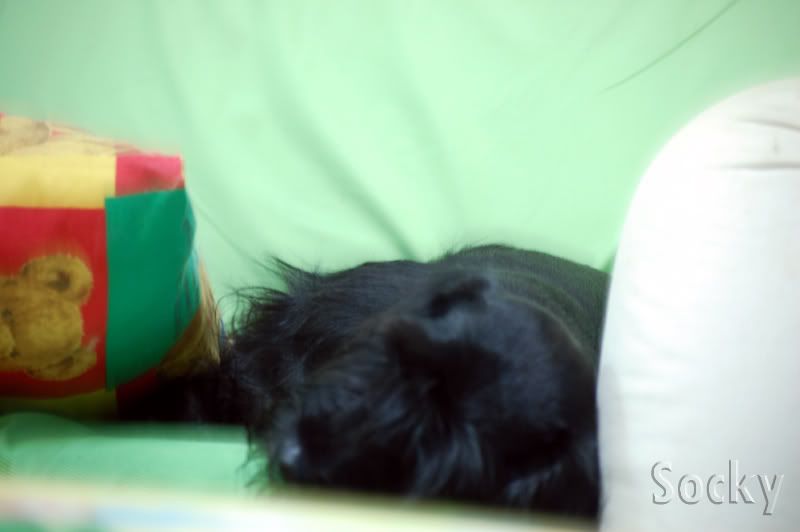 She hides from the group foto by staying on the other side of the sofa.



Most of the time, Zenzen will be running around... And JJ always miss the right moment to shoot when Zen settle down.

Next is Baby! She is a Alaskan Klee Kai.
She used to shy away from cam the last time we met. But this time, we got quite some good pics of her!


Looking majestic. Love the way she folds her legs



Sleepy.......



Smile! Fav Pic!

O ya... Lets not forget. The owner of the house!!! Bobby!!!!
He is a Rough Collie. Thanks to him, we get to stay and played in his house the whole afternoon.


He loves to herd me.....

Ok.. My actions below make all the hoosmans there agreed that i am a Cat not a dog..
Coz i can cat-walk on the ledge of the sofa....



Tadaa~ the only group foto that we manage to take... The other 2 dog are clever to hide from the camera.

Lots of Love,
Sweety